Learn how to save your horse from colic, choke and more
It's a simple fact. Most of the time, you will need to handle your horse emergencies on your own until the vet arrives. But don't worry - I'll show you how not to panic by being confident and prepared to apply natural therapies alongside veterinary care.
Enrolments for this Course are now CLOSED.
Click the button below to be notified next time course enrolment opens in 2022.
Horse owners are often left confused and unprepared when it comes to dealing with emergencies. It's not always clear what the best course of action is for treating a sick or injured horse.
Even if you're prepared, it's likely that you'll be too nervous or overwhelmed to react effectively when the worst happens. You end up feeling like:
You love your horse. You do your best to look after your horse.
You know how SCARY it is when your horse get's colic or suffers an injury.
Especially when it's at night and it's hard to get hold of your vet.
You also like to take a holistic approach with your horse's health, that mirrors your own life.
You KNOW you could feel so much more confident when you know what to do in emergency situations like colic, wounds, choke or snakebite.
Imagine what it's going to be like when…
INTRODUCING...
the
Holistic Equine First Aid
5 Week Interactive Online Course
The Holistic Equine First Aid Course is
not "just another online course"...
It's your insurance to prevent a health scare with your horse from turning into a crisis.
It will teach you step by step how to approach common horse emergencies such as colic, wounds or sudden lameness.
It will give you PRACTICAL information that you can immediately implement to prepare for emergencies and access when you need it.
Discover how modern medicine can be used alongside natural therapies you can easily learn and access at home so that your horse can recover quickly from an injury or illness.

Here's What You Can Expect When You Enrol in the
Holistic Equine First Aid Course
Each week you'll receive access to easy to follow videos with theory and practical demonstrations. You'll get valuable info that's easy to understand. If you learn better by reading, all the videos also have a written transcript to follow.
Community - connect & belong
Inside our private Facebook group you'll find like-minded horse owners who share your values. A beautiful and welcoming community where people from all around the world come to learn together about keeping their horses happy and healthy using a holistic approach.
You'll be able to get all your important questions answered in live Q&A sessions. Whether it's questions about how you dealt with a specific situation with your horse or more details about which natural remedies to use. Ask away.
The included workbooks and quizzes will help you to activate your learning. They will help you remember and focus on the most important things that you're learning. The workbooks are also a great asset to keep in your First Aid Kit to quickly remember what you've learnt!
See what others have said about this course
I now feel a strong sense of confidence that I know what to do in an emergency
Maike's course has been fantastic and I would highly recommend it to anyone who owns horses no matter how much or how little experience you feel that you have in this area.
I have always agisted my horses and had plenty of people to help me if I had questions. Now that I have them at home and having never dealt with a serious emergency I felt a bit unsure of a few things. When is it an emergency? When do I need to call a vet? What information will my vet need? What can I do to help my horse whilst we wait? How can I support their healing and recovery afterwards? This course covered all of that and I now feel a strong sense of confidence that I know what to do in an emergency.
Maike has a very clear teaching style and is very knowledgeable about both conventional medicine and herbal medicine, homeopathy and acupressure. The teaching is self paced so you can follow along in your own time.
Now that I have my horses' vitals recorded, a fully stocked first aid kit and the knowledge of what to do in an emergency I am looking forward to learning more about the holistic aspects of looking after my horse's health.
Annetta Bellingeri / Arcadia Valley Agistment
Let Me Show You the Week-by-Week Breakdown inside the

Holistic Equine First Aid Course
Learn how to handle Emergencies before they happen
As a responsible horse owner you know you need to be prepared BEFORE a problem occurs with your horse.
In the beginning it's easy to feel overwhelmed with too much information. So in week one we'll cover step by step the information and practical steps you need to prepare for emergencies.
Easy to use Natural Remedies for Horses
In week two you will learn about easy to use natural remedies to keep in your horse's first aid kit. We'll discover the difference between natural and pharmaceutical medicine.
You'll be introduced to Traditional Chinese Veterinary Medicine (TCVM), acupressure, homeopathy, herbs and essential oils.
Common Horse Emergencies
In week three you'll discover how to apply what you learnt in weeks one and two to practical emergency situations.
We'll cover how to respond and what to do step-by-step in common emergencies that horse owners face. For each situation you'll learn the important first aid steps to take and which natural remedies you can bring in to help.
Manage Colic without fear
Colic is most horse owner's biggest fear. The entire week four is dedicated to colic - how to recognise it, how to assess your horse (how bad is it?) and what you can do to help your horse while waiting for your vet.
We'll also talk about what NOT to do to make the situation worse and importantly, what you can do to help prevent colic.
Set up your Horse's First Aid Kit

In week five you will learn how to set up a comprehensive holistic First Aid Kit for your Horse. You'll also discover how to cost effectively stock your Kit and the best way to store it. It's about keeping it simple and effective.
You'll be excited about growing the natural remedies in your kit as you gain confidence to use them.
Your Best Insurance to

Keep Your Horse Health

y is
KNOWLEDGE and being PREPARED
Horses are an expensive affair. It's easy to blow your budget just with the normal upkeep for your horse, let alone when a big vet bill hits you. And let's face it, horses seem to get colic or hurt themselves most commonly in the evening or on a weekend when your vet charges additional after-hours fees!
A vet bill to treat a colic starts at around $500 and very quickly creeps into the $1000s of dollars. One way you can reduce the risk of a big vet bill is by being able to identify a problem with your horse early and immediately taking steps to apply first aid and communicate with your vet. A colic for example has a much better chance for recovery before a horse develops complications such as dehydration and shock. Knowing what to do before you call your vet (if the situation requires one), while you wait and after your vet leaves are critical to reducing complications, helping your horse heal and saving money on vet bills!
Now of course you can find lots of information on the internet and in books about first aid for your horse. In fact, there's no shortage of information out there. The problem is, you'll find many different answers to the same question. Some advice is helpful, other advice can actually harm your horse.
It can also take hours to find the proper, relevant information. In an emergency, there's no time for that. You need to have the right information at your fingertips and importantly, you also need to have the right equipment stocked in your first aid kit and know how to use it. During a colic is not the best time to learn how to take your horse's heart rate!
You can take all that stress away by enrolling in the Holistic Equine First Aid Course.
This is a small investment when it comes to safeguarding your horse's health and your peace of mind. For less than the cost of a horse rug you can get started today to know exactly what to do in an emergency and confidently use natural therapies to help your horse.
Course Enrolments close on 3 December 2021
100% Money Back Guarantee for 30-Days
It matters to me that the Holistic Equine First Aid Course makes an actual difference in yours and your horse's life, so I'm offering a 30-day, no questions asked, money back GUARANTEE.
If you're not satisfied with the quality of the content, or for any other reason whatsoever, just shoot me an email at support@equinefirstaid.com.au requesting a full, immediate refund.
Bonus
You also get these special enrolment BONUSES
The 5 modules in the Holistic First Aid Course will give you the knowledge and confidence to help your horse in an emergency. But there's even more!
When you enrol today you also get these amazing FREE GIFTS to make your learning journey easier and
to deepen your understanding and curiosity of holistic therapies for your horse.
Bonus 1
Essential Assessment Skills - Mini Course
($97 Value)
Learn how to easily and quickly assess your horse's health - an essential skill for every horse owner.
This Mini Course dives into more details of how to assess your horse's heart rate, respiration, mucous membranes (gums), gut sounds and temperature - essential skills for every horse owner.

You can play the easy to follow videos on your phone right with your horse while you practice with your stethoscope and thermometer.

Printable course notes serve as the perfect HOW TO GUIDE to keep in your first aid kit.
Bonus 2
Holistic Horse Health Expert Interviews
($300 Value)
Listen to interviews with passionate equine health practitioners sharing their best tips for horse owners. You'll learn about homeopathy, herbs for horses and holistic nutrition with:
Brenda Tobin (DIHom, D.Vet. Hom. Cert.C.N.) - Homeopathic Practitioner and horse owner, specialising in homeopathy for animals.

Fiona Adams - Equine Herbalist for over 20 years. Horse owner and author of the books 'Secret Herbal Recipes for Horses' and 'The Herbal Hoof and Leg'.

Dr Penny Hawken (BSc Hons, PhD) - Equine Supplement Specialist behind 'Alternate Touch', a truly holistic approach to horse health and well being.
Bonus 3
Printable Info-sheets
($150 Value)
Having more knowledge is important. Being able to take that knowledge to your horse and apply it is when you get the real benefit!
It's during an emergency when you need quick access to the right information.

I've made it easy for you with this Bonus which includes helpful info-sheets that you keep in your horse's first aid kit.
Hey, I'm
Dr Maike Turnbull
I'm a horse lover and veterinarian. It was always my dream to become a veterinarian to help keep horses happy and healthy. As a veterinarian, I love what modern medicine has to offer, but I also acknowledge the wisdom shared by natural based therapies. It's important to me to have a truly holistic approach to health and healing for horses.

I have been blessed with many animals in my life who taught me important lessons about the value of expanding my knowledge and tool box to include holistic therapies.

I love sharing my knowledge to empower and inspire horse owners to help their horses in simple and very effective ways.
Here's what people are saying about the course instructor...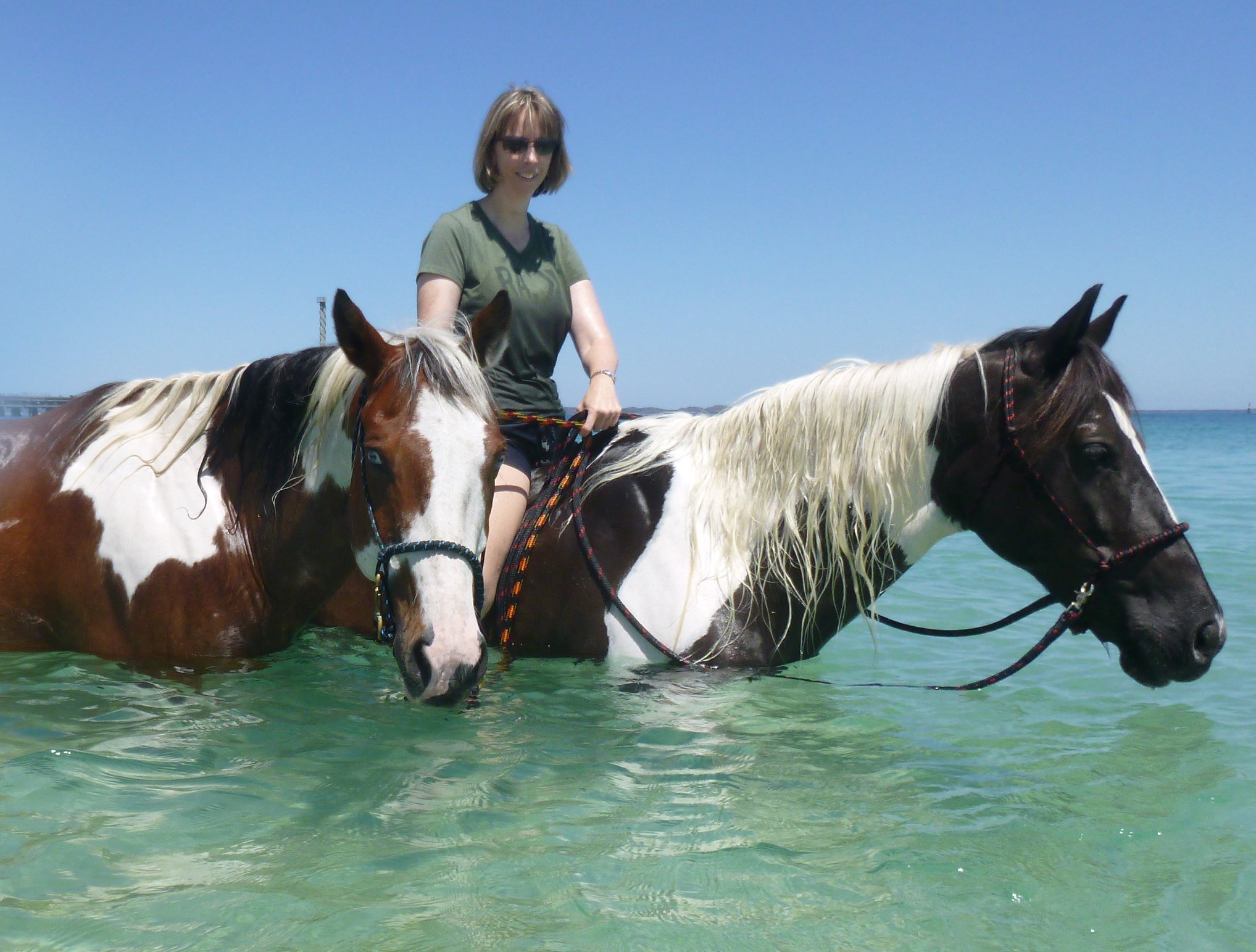 Sue Ruessmann
Horse Owner & Course Participant
Rebecca Firns
Horse Owner & Course Participant
So, it's time to make a choice!
If you want to know what to do next time your horse gets sick or injured, the first step is to get the right information and build your confidence through the Holistic Equine First Aid Course.
RIGHT NOW YOU HAVE 2 OPTIONS:
Option 1: You could do nothing and hope for the best when your horse gets sick.
Option 2: Choose to invest in the Holistic Equine First Aid Course to confidently help your horse KNOWING you'll be prepared when your horse needs you most.
BUT CHOOSE QUICKLY!
Because this enrolment period and investment won't be available forever...
In fact, the doors to the Holistic Equine First Aid Course close at midnight 15 October 2021 when the timer on this page runs out and it will be quite some time until you have the chance to enrol again.
This is because after 5 November I'll be putting all my time and energy into supporting students through the course journey.
And the investment price of 3 instalments of $97 is the lowest price this course will ever be! When I open it again, the price WILL be higher.
STILL NOT SURE?
Do you have a question you still need answered before enrolling? Scroll down to find a list of common questions I've been asked.
If you don't see your question, please email me at support@equinefirstaid.com.au so I can help!
So, Let's Recap
Here's

WHAT YOU GET

when you enroll in the Holistic Equine First Aid Course today...
You need information you can trust - and that's what the 5 course modules will give you with easy to follow videos, workbooks and quizzes.
You'll be supported with LIVE Q&A sessions and the resources you need to keep in your first aid kit to help you through an emergency.
You'll feel at home amongst like-minded horse owners in our private Facebook group where ideas & information are shared and questions answered.
Guest experts will share valuable info on holistic health topics and inspire you to look at new ways to keep your horse happy and healthy.
5 Course Modules
Live Q&A sessions
Workbooks & Quizzes
Private Facebook group
BONUS 1: Mini Course
BONUS 2: Guest Interviews
BONUS 3: Printable Info-sheets
Don't wait! Look at what past students have to say about this course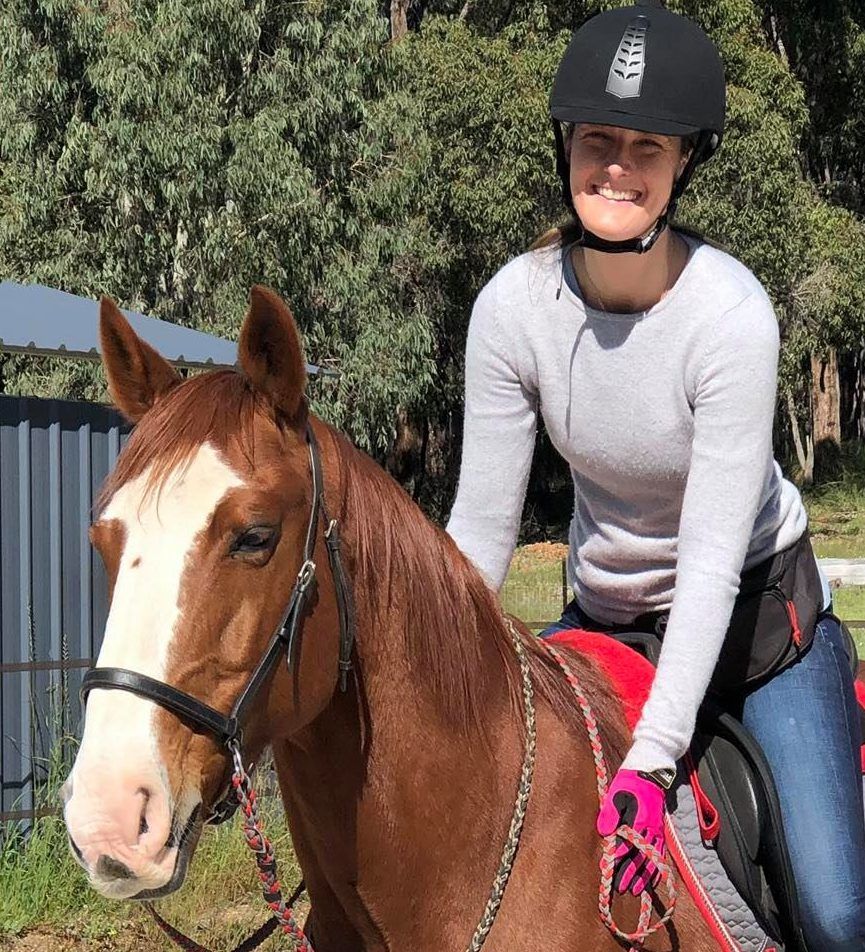 Suzanne Smith
Horse Owner & Course Participant
Frequently Asked Questions
The course starts on 6 December 2021 and that's when the first module will be released. A new module will be released each week for the 5 weeks. However you can get started immediately when you sign up with the bonus "Essential Assessment Skills Mini Course" and join the private Facebook Group.
You'll have access to the course for a full 12 months during which you can come back to the course material anytime. You'll also get to download and keep all the course workbooks, info-sheets, etc.
The Q&A Calls will be scheduled in the middle and at the end of the course. You'll get plenty of notice of when the calls will be held.
All the calls will be recorded. So if you can't make it live you'll be able to watch the re-play. If you have a question but can't make it to the call you'll be able to submit your question beforehand and I'll answer it during the call.
No problem. My intention is to help you help your horse. I know what I teach is extremely valuable and has helped hundreds of horse owners. But if you start the course and don't feel it's of value to you, you can ask for your money back thanks to my 100% satisfaction 30 Day money back guarantee. Just send an email to support@equinefirstaid.com.au.
The video lessons will take you between 1-2 hours to watch each week. Give yourself another hour each week to complete the workbooks, participate in the facebook group and check out the printable info sheets. Some weeks there will be an additional hour for the live Q&As. Everything is recorded so you can schedule your time as it suits your life.
Some of the Bonus materials are available immediately after you've enrolled, others will be released throughout the course. I do this to prevent you from feeling overwhelmed and to give you relevant information at the right time in your learning journey.
This course is NOT a replacement for a consultation with your veterinarian. You'll be able to receive general horse health information and learn from case examples. You will not receive a diagnosis or specific treatment advice for your horse's individual circumstances.
Yes! The course is broken down into bite-size information that is easy to follow. Veterinary terms and concepts are explained in everyday language that is easy to understand and follow. This course will set you well on your way for understanding how to keep your horse healthy and how to identify if your horse is unwell.
Unless you know everything there is to know about horse health, first aid and holistic therapies, then you'll pick up lots of great info and tips in the course. Plus, you'll get lots of handy information to get your first aid kit organised and have ready access to what you need to know during an emergency.
I'll open the course for enrolment again sometime in 2022. The price will be higher.
I offer a 100% money-back guarantee for 30 days. That means, you can ask for a refund within 30 days of your enrolment.
You can make the difference to your horse.
If you've made it all the way to the bottom of this page I know you're someone who deeply cares about their horse's health and well being. And that's exactly for whom I created this course! I feel truly honoured to be able to share my knowledge with you and, more importantly, inspire you to take action to become confident to help your horse when he needs you most. I can't wait to meet you and share your journey!