I help horse owners to be confident and prepared to know what to do when their horse is sick or injured. By bridging knowledge of conventional veterinary and natural medicine without making it complicated.

You know your horse best.
I can give you the knowledge and practical tools available thanks to modern medicine and natural, holistic therapies that could save your horse's life and help recovery from illness.

Learn First Aid for Horses

Learn the knowledge and practical skills you need to help your horse in an emergency.
Learn holistic therapies
Learn how to incorporate natural, holistic therapies and remedies to help your horse.
Learn together
Join a supportive community of horse owners who care about learning and helping their horses.
Veterinarian BSc BVMS (Hons) 2004
Training & Assessment (Cert IV) 2015
Certified Veterinary Acupuncturist 2020

HORSE OWNER & HOLISTIC HORSE HEALTH ENTHUSIAST
I'm a passionate horse owner and Veterinarian. I love what modern medicine has to offer and the many lives it saves. And I respect and acknowledge the wisdom of natural based therapies.
Through searching for answers over the years, I discovered the powerful synergy available today in putting to use 'the best of both worlds' - modern science and natural complementary therapies, for a truly holistic approach to health and healing for our horses.
Working as a horse vet made me realise that YOU, as a horse owner, could be empowered by having more knowledge and confidence in what to do when your horse is sick or injured. That's how I became passionate about teaching First Aid to Horse Owners. There are so many things you can add to your 'toolbox' to help your Horse!
Download my FREE Guides now
Coming Soon... the online
Holistic Equine First Aid Course for Horse Owners
Learn everything you need to know to feel confident to deal with emergencies horse owners can face, including colic, wounds, choke, sudden lameness and more.
After completing this course you will be able to take your horse's vital signs and know when you need to call your vet and what to do while you're waiting.
The course will also teach you how to build and use a comprehensive first aid kit including natural remedies you can use for your horse's benefit.
This is what past students have said about the course...
Maike's course has been fantastic and I would highly recommend it to anyone who owns horses no matter how much or how little experience you feel that you have in this area.
I have always agisted my horses and had plenty of people to help me if I had questions. Now that I have them at home and having never dealt with a serious emergency I felt a bit unsure of a few things. When is it an emergency? When do I need to call a vet? What information will my vet need? What can I do to help my horse whilst we wait? How can I support their healing and recovery afterwards?
This course covered all of that and I now feel a strong sense of confidence that I know what to do in an emergency.
Maike has a very clear teaching style and is very knowledgeable about both conventional medicine and herbal medicine, homeopathy and acupressure. The teaching is self paced so you can follow along in your own time.
Now that I have my horses' vitals recorded, a fully stocked first aid kit and the knowledge of what to do in an emergency I am looking forward to learning more about the holistic aspects of looking after my horse's health.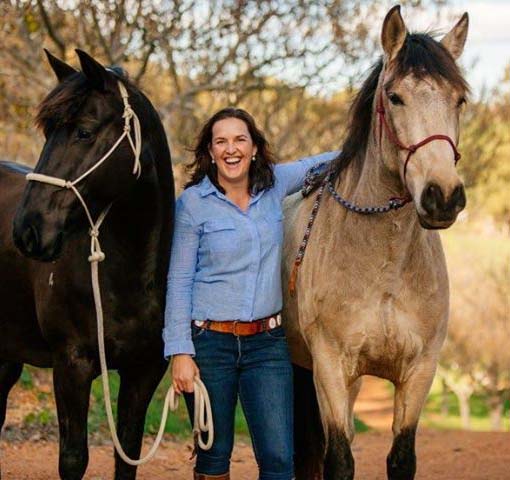 Join my mailing list to receive FREE horse health info and special offers
Copyright 2020 Equine First Aid